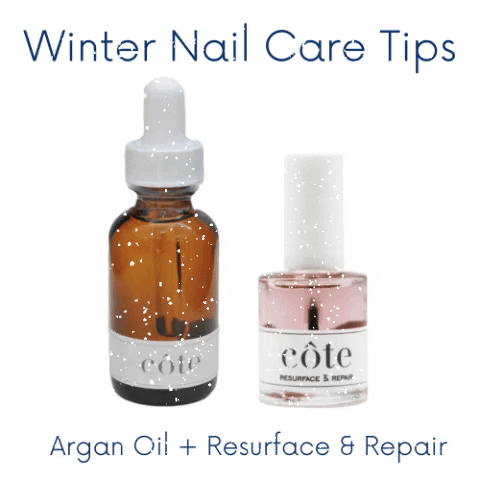 Hydrate, hydrate, hydrate! As we head into the winter months and the weather begins to change, so do the needs of our nails. Keep your dewy, summer polish look going by focusing on moisturizing. Since we are all pros by now at our at-home manis, make sure you are including a step that all the (real) pros swear by....massage with a great moisturizer. We love Côte's 100% organic, cold-pressed Argan Oil. If straight oil isn't your thing, add several drops of Argan Oil to your favorite lotion! It's an easy way to make your at-home regimen a little more luxe, plus it will give your hands (and especially your cuticles) the added hydration they crave this time of year.
Make sure once you're done with your mini massage, that you thoroughly clean off your nail plates. Any excess oil left behind will keep your base coat from sticking. We recommend soaking a lint-free wipe in alcohol and swabbing each nail before applying your base coat. Try reaching for Côte's
Resurface & Repair base coat
. Infused with lavender extract, ginseng root extract and calcium fluoride, it will heal and fortify as those colder months come.